I will admit that brownies are my weakness…
There's just something about the fudgy, chocolatey-ness of a brownie that really drives me wild. And when you add in an element of cheesecake and the flavor of mocha then things get really tempting!
Of course I am careful in eating foods that work for my fitness goals, which eliminates most of the brownies out there…but not this recipe!
Here's a recipe for Mocha Cheesecake Brownies that is worth getting excited about…
Mocha Cheesecake Protein Brownies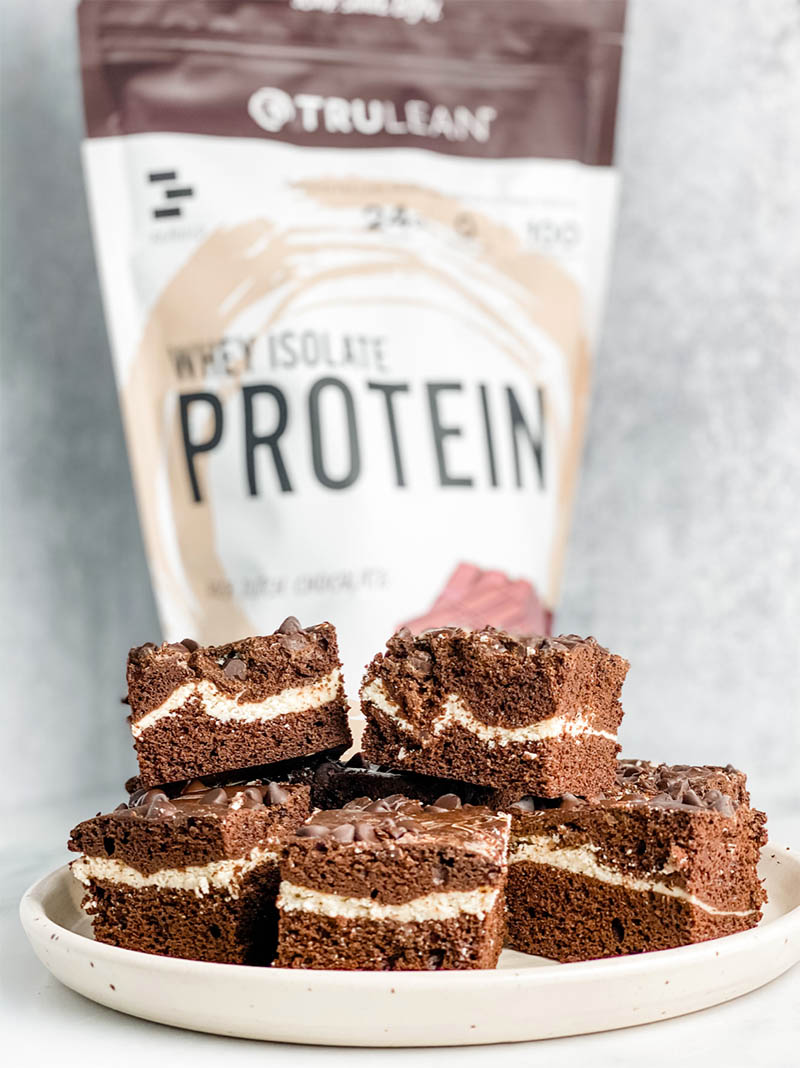 For the Brownie Layer:
• ¾ cup TRULEAN Rich Dutch Chocolate Whey Protein
• 2/3 cup unsweetened cocoa powder
• 2/3 cup granulated Swerve
• ¼ teaspoon sea salt
• ½ teaspoon baking soda
• 1 Tablespoon instant espresso powder
• ½ cup egg whites
• 1 cup sweet potato puree
• 1 ½ teaspoons vanilla extract
• ¼ cup coconut oil
• ½ cup Lily's stevia-sweetened dark chocolate chips (optional)
For the Cheesecake Layer:
• 8 oz cream cheese, at room temperature
• ¼ cup granulated Swerve
• 1 egg, at room temperature
• 1 teaspoon vanilla extract
1. Preheat the oven to 350 degrees F and line a brownie pan with parchment paper.
2. For the Brownie Layer: In a large mixing bowl combine the protein powder, cocoa powder, granulated Swerve, salt, baking soda and espresso powder.
3. In a food processor combine the egg whites, sweet potato puree, vanilla extract and coconut oil. Pulse until smooth then add in the dry ingredients.
4. In the bowl of an electric mixer fitted with beaters, beat the cream cheese and granulated swerve together on medium speed until just smooth, about 1 minute. Add the egg and vanilla, beat on low speed until just combined, about 1 minute. Do not over-mix.
5. Pour half of the brownie mixture into the bottom of the prepared pan. Top with the cheesecake mixture. Top with the remainder of the brownie mixture. Sprinkle chocolate chips over the top of the brownies if desired.
6. Bake in the preheated oven for 20 minutes. Enjoy!
Nutrition in 1 brownie: (makes 16 brownies): Calories: 137 Fat: 9g Carbohydrates: 19g Sodium: 136mg Fiber: 3g Protein: 6g Sugar: 12g
I hope that you'll try this wholesome recipe the next time that you have a hankering for making brownies. It's so cool that we can make delicious desserts that cure our cravings for sweets while keeping us on track with our health and fitness goals! Win-Win!
It's important to make smart choices when it comes to the treats that you indulge in, and what's great is that healthy, low-sugar treats like this taste amazing.
The protein powder that you use in your fitness treat recipes makes a huge impact on the flavor and consistency of the finished product and that's why I only use TRULEAN's high-quality protein with super clean ingredients and zero artificial sweeteners.
Use Coupon Code SSFBBC25 and get 25% off your first order at www.befitsouthshore.com